Welcome to Universal Insulation Doctor, your trusted partner for high-quality insulation services in Williamsburg, VA.
At Universal Insulation Doctor, we understand the paramount importance of a well-insulated space, whether it's your home or business. Our insulation company offers energy efficient options such as batt, foam insulation, and spray foam insulation to help with insulation upgrade and reduce cooling costs. Our expert installer s specialize in home insulation and utilize the latest insulation material s for superior results.
Our commitment is to provide you with top-notch insulation solutions that not only enhance energy efficiency but also contribute to your overall comfort and cost savings.
Signs That Your Home Needs Insulation
Ensuring that your home is properly insulated is crucial for maintaining energy efficiency and comfort, especially in a place like Williamsburg, VA, with its varying climate conditions. Universal Insulation Doctor, an insulation company, understands the unique insulation needs of homeowners in this area. To help you identify whether your home requires insulation attention, here are some key signs to watch out for. The installer will assess the wall cavity and recommend the proper insulation product for your needs.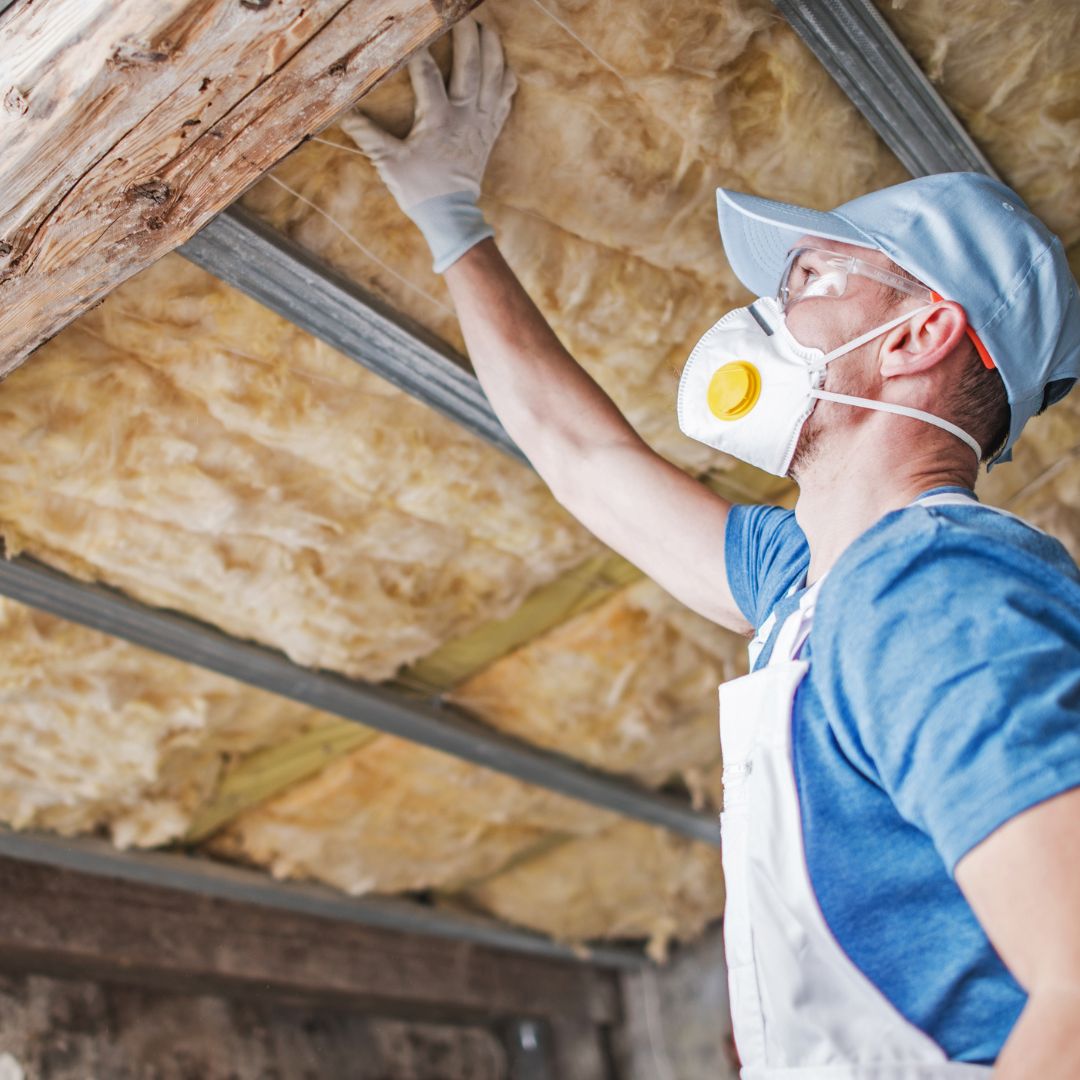 Fluctuating Temperatures
If you notice inconsistent temperatures throughout your home, with certain areas being too hot in the summer or too cold in the winter, it may be an indication of insufficient insulation. Proper insulation helps regulate indoor temperatures, ensuring a comfortable living environment year-round. Consider an insulation upgrade to make your home more energy efficient.
High Energy Bills
A sudden spike in energy bills could be a red flag for inadequate insulation. Insufficient insulation allows for heat transfer, causing your heating and cooling systems to work harder to maintain a comfortable temperature. Upgrading your insulation can lead to significant energy savings
Drafts and Air Leaks
Feeling drafts or detecting air leaks around windows, doors, or other openings suggests that your home may lack proper insulation. Universal Insulation Doctor specializes in identifying and sealing these air seal gaps to enhance energy efficiency and eliminate uncomfortable drafts.
Uneven Heating or Cooling
If certain rooms in your home consistently feel warmer or cooler than others, it may be a sign of uneven insulation distribution. Our team can assess and address these issues to ensure consistent heating and cooling throughout your home.
Ice Dams and Water Issues
In colder climates like Williamsburg, VA, ice dams on the roof can indicate poor insulation. Insufficient insulation allows heat to escape, leading to uneven melting and refreezing of snow. This can result in water damage and leaks. Our insulation services help prevent these issues and protect your home from water damage.
If you observe any of these signs in your Williamsburg home, it's time to consider professional insulation services from Universal Insulation Doctor. Our experts are equipped to assess your specific needs and provide tailored solutions to enhance the energy efficiency and comfort of your home.
Why Choose Universal Insulation Doctor For Your Home Insulation Needs?
Choose Universal Insulation Doctor for your home insulation needs in Williamsburg, VA, because we offer local expertise, cutting-edge technology, and an environmentally responsible approach, coupled with a customer-centric focus and a proven track record of excellence in delivering high-quality results.

Local Expertise
Based in Williamsburg, VA, Universal Insulation Doctor understands the unique climate challenges in the area. Our local expertise ensures that we tailor insulation solutions specifically to meet the needs of your home, maximizing efficiency and comfort. Our installer will air seal and insulate the joist, wall cavity, and wall insulation to provide optimal insulation for your home.

Cutting-Edge Technology
We employ the latest advancements in insulation technology. From high-performance materials to state-of-the-art installation techniques, our commitment to innovation ensures that your home benefits from the most effective and energy-efficient insulation solutions available.

Environmental Responsibility
At Universal Insulation Doctor, we prioritize sustainability. Our insulation services are designed with eco-friendly materials and methods, contributing not only to your home's energy efficiency but also to the well-being of the environment. As an insulation company, we focus on providing energy efficient insulation product s and professional installer s.

Customer-Centric Approach
Your satisfaction is our priority. We take a customer-centric approach, working closely with you to understand your specific needs and preferences. Our team ensures clear communication, transparency, and a seamless experience from consultation to project completion.

Proven Excellence
With a track record of excellence, Universal Insulation Doctor has become a trusted name in the insulation industry. Our experienced team of experts consistently delivers high-quality results, enhancing the overall comfort, value, and energy efficiency of homes throughout Williamsburg, VA.

Next-Day Services
Universal Insulation Doctor stands out by offering prompt and efficient next-day services for your home insulation needs. We understand the urgency of creating a comfortable and energy-efficient living space, and our commitment to quick turnaround times ensures that your insulation project is addressed promptly.

SmartPay Options
To make our services more accessible, Universal Insulation Doctor provides SmartPay options, allowing you to manage your budget effectively. Our flexible payment solutions are designed to accommodate your financial preferences, making high-quality home insulation more affordable and convenient for our clients.

BBB Certified
Trust is paramount when it comes to selecting an insulation service provider. Universal Insulation Doctor is proud to be accredited by the Better Business Bureau (BBB). Our BBB accreditation reflects our commitment to integrity, transparency, and delivering exceptional service, providing you with added confidence and peace of mind in choosing us for your home insulation needs.
Types of Insulation Services Offered
At Universal Insulation Doctor, we offer an extensive range of insulation types to aptly cater to differing preferences.
Attic Insulation: Universal Insulation Doctor specializes in enhancing the energy efficiency of your home by providing comprehensive attic insulation services. Our expert team ensures that your attic space is properly insulated to regulate temperature and reduce energy consumption.
Sub-Floor/Crawl Space Insulation: We offer specialized insulation services for sub-floors and crawl spaces, addressing areas often overlooked but crucial for maintaining a well-insulated home. Our solutions prevent heat loss and contribute to a more comfortable living environment.
Insulation Removal: If your existing insulation has reached the end of its lifespan or is damaged, Universal Insulation Doctor offers professional insulation removal services. We safely and efficiently remove old insulation, preparing the space for new, effective insulation installation.
New Insulation Installation: Our team excels in installing new insulation tailored to your specific needs. Whether it's fiberglass, spray foam, or other advanced insulation materials, we ensure precise installation to maximize energy efficiency and comfort in your home.
Air Duct Cleaning: Universal Insulation Doctor extends its services to include thorough air duct cleaning. Clean and well-maintained air ducts contribute to improved indoor air quality, energy efficiency, and the overall performance of your heating and cooling systems.
Sanitizing and Disinfectant Treatments: We go beyond traditional insulation services by offering sanitizing and disinfectant treatments. Our specialized solutions help maintain a hygienic environment by targeting and eliminating harmful microorganisms, ensuring a healthier and safer home for you and your family.
Our Three Step Process
Inspection:

At Universal Insulation Doctor, our process begins with a thorough inspection of your property. Our experienced professionals assess key areas, such as attics, sub-floors, crawl spaces, and air ducts, to identify insulation needs and potential energy inefficiencies. This comprehensive inspection allows us to create a tailored plan that addresses your specific requirements.

Service:

Following a detailed inspection, our dedicated team implements top-notch insulation services designed to enhance the energy efficiency and comfort of your home. Whether it's attic insulation, sub-floor or crawl space insulation, insulation removal, or new insulation installation, we employ industry-leading techniques and materials to deliver high-quality results. Our commitment to excellence ensures that every step of the service process is executed with precision and expertise.

Follow-Up:

Our relationship with clients doesn't end with the completion of the service. Universal Insulation Doctor takes pride in our follow-up process, where we ensure that the installed insulation meets your expectations and specifications. We address any additional questions or concerns you may have and provide guidance on maintaining the longevity and effectiveness of your insulation. Our commitment to customer satisfaction extends beyond the service phase, aiming to establish long-term relationships built on trust and quality.
Take Your Home Insulation Needs With Us!
As a resident of beautiful Williamsburg, VA, your home deserves the best. Enhancing your home's comfort, reducing energy consumption, and promoting indoor health are but a few compelling reasons to prioritize quality insulation. With Universal Insulation Doctor, we ensure that you do not compromise on any of these fronts.
Taking your insulation needs lightly or handing them over to unprofessional service providers can cost you dearly in the long run. Issues like uneven temperatures, unwanted noise leaks or skyrocketing utility bills are bold pointers towards the need for expert insulation services. By partnering with us, you can bid adieu to these complications and enhance your home's appeal through our professional home insulation services.
We at Universal Insulation Doctor are committed to customer satisfaction and superior service. From our first interaction, throughout the process, to the final checks, you can expect a seamless experience. Our years of experience, high-quality materials, advanced techniques, and dedicated customer-service make us a premier choice in the insulation industry.
It's time for you to join our family of countless satisfied customers. By taking this step, you are not merely investing in our services but also into a comfortable, energy-efficient, and durable house in Williamsburg, VA.
So, don't wait. Contact us today, and let's take home insulation, a key home improvement, off your worry list.
Easy payment options. Service today, pay tomorrow.
90 Day Same as Cash
6 Month Interest Free
Up to 24 Monthly Payments with "0" Down
Frequently Asked Questions
What are the signs that indicate that my home needs insulation?
Signs that indicate that your home needs insulation include fluctuating temperatures, high energy bills, and drafts in certain areas of your home.
Is proper insulation really necessary for homes?
Proper insulation is essential for homes as it helps regulate temperature, reduces energy bills, and improves overall comfort.
Why should I choose Universal Insulation Doctor for my home insulation needs?
Universal Insulation Doctor should be your top choice for home insulation because they offer high-quality insulation materials, experienced technicians, and competitive pricing to ensure optimal energy efficiency and comfort for your home.
What types of insulation does Universal Insulation Doctor offer?
Universal Insulation Doctor offers a variety of insulation options including foam insulation, cellulose insulation, and fiberglass insulation. Each type of insulation has its own benefits and can be tailored to meet the specific needs of your home or business.
Can you explain the three-step process used by universal insulation doctor for home insulation?
Yes, the three-step process used by Universal Insulation Doctor for home insulation includes a comprehensive energy assessment, installation of the recommended insulation, and post-installation inspection to ensure optimal energy efficiency and customer satisfaction.