Do you feel like there has been a spike in your energy bills? This might be because your attic is not properly insulated. Insulation allows hot air to stay trapped in your home. When it starts to wear out, nooks might become exposed to the outside through your roof, which can lead to less efficient heating. Therefore, it is important to always keep an eye on your attic's insulation. If the job is small and you have experience, you might want to do it yourself. However, bigger and more thorough jobs should be left for the professionals.
What are the Types of Attic Insulation?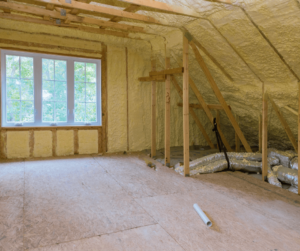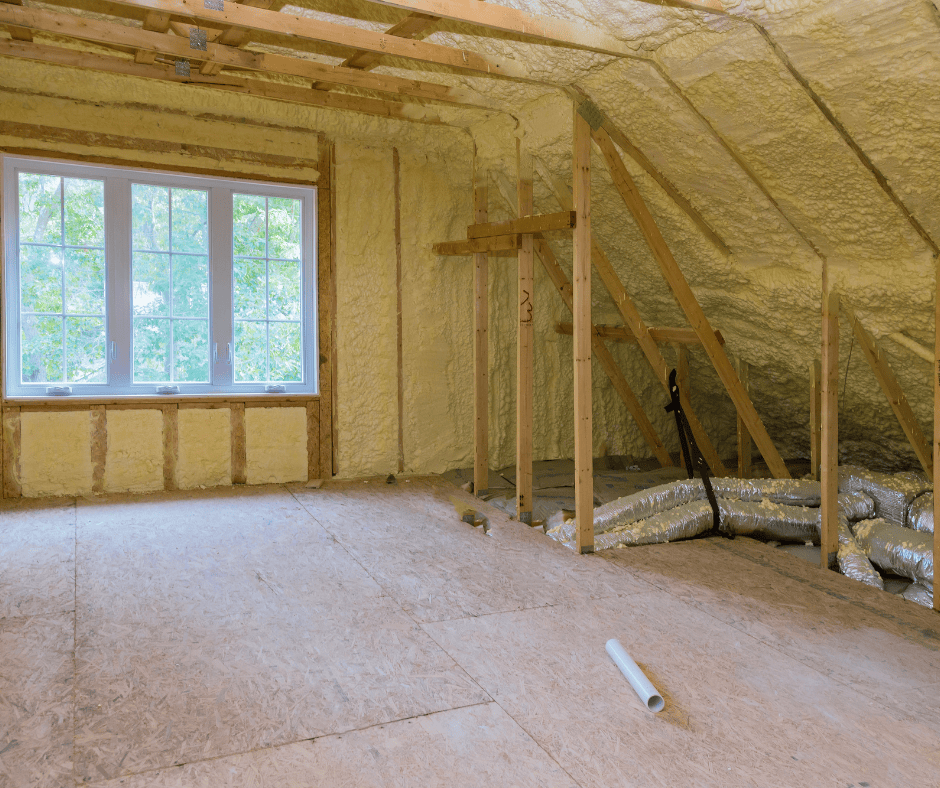 The main purpose of installing insulation in your attic is to make sure the heat does not leave your home. This will allow for better heating and avoid overspending when it comes to your energy bill. There are many types of insulation that are suitable for one's attic. However, it is important to take into consideration the R-value. This value measures how effective the material is. Usually, hot climates call for an R30, while colder climates need an R49.
Fiberglass Batt Insulation is one of the most popular types of insulation among homeowners. This insulation is made of fiberglass, consisting of very thin glass fibers made of recycled materials and sand. You will often see fiberglass insulation in batts, in which it is rolled up like a sheet and held together by an adhesive vapor barrier. This type of insulation is moisture and fire-resistant. Additionally, it is easy to install since you simply pick it up and unfurl it in the desired area.
Blown-In Fiberglass Insulation is another way of installing fiberglass insulation. This type comes in the loose form, in which there are tiny chunks packed in large bags. To install this type of insulation, you will need a blowing machine that spreads the chunks of fiberglass in the desired area. While this type of insulation was often used in the 90s, it loses its R-value when the temperatures go below 20 degrees Fahrenheit. However, blown-in fiberglass is a good option if you want to fill in cracks and it is very affordable.
Cellulose Insulation is made of recycled thinly shredded newspaper to create a fiber-like material. This type of insulation can be both loose-fill or blown-in; the first would be easier for the average homeowner. Cellulose is good because it can get to the nooks and crannies of your attic to make sure that the heat stays there. However, this type of insulation tends to absorb water, leading to the formation of mold in your attic.
Spray Foam comes in two varieties: open and closed cell. This type of insulation is great because it instantly creates an airtight seal that will last you a long time. While most insulation needs to be replaced every few years, spray foam will last you much longer. Additionally, spray foam is completely impermeable to water. Therefore, you can rest assured that no water will seep into your attic. Not to mention that this insulation also acts as a sound barrier and helps maintain and strengthen the home's structure. However, it is important to note that it cannot be removed once you have sprayed the foam. Therefore, it is important to plan and carefully apply it.
Why DIY It?
Fiberglass batts are affordable and easy to install yourself, however, it needs to be handled with care. This is because fiberglass can get embedded in the skin or inhaled, causing serious illness. When it comes to blown-in cellulose, you can rent a machine at your local hardware store. However, you must know how to operate it. Otherwise, insulation can go all over the place and potentially ruin ducts and leave dust all over your home.
If you are planning to install your insulation yourself, you can work on your own time. However, it is important to note that the installation can be a long and tiring process. Not to mention that it is important that you thoroughly cover every nook and cranny to make sure no air is getting in the attic. Additionally, you must remove any old insulation in your home and properly dispose of it. It is also important to note that the effectiveness of insulation depends on the quality of it as well as the quality of the installation. If it is not properly installed, moisture and mold can grow in your attic leading to bigger problems.
Why Hire a Professional?
Although hiring a professional might lead you to spend a bit more money, they are the best option for someone who has no experience with insulating a home. Rather than working only when you have free time, professionals can get the job done quickly and effectively. Not to mention that they can inspect your home and see what insulation is best for you. Additionally, you will not have to deal with disposing of old insulation thoroughly. However, you must research contractors in your area to see if they are reputable. If you go for a cheaper and less reputable contractor, you might get into problems and a bad job. Not to mention that professionals can insulate walls without the need of tearing drywall.
If you are not confident in insulating your attic yourself, Universal Insulation Doctor is the best option for you. We offer a variety of solutions for all your insulation needs, including attic insulation, crawl space insulation, insulation removal, and additional insulation. Additionally, our team of professionals offers a complete insulation process that makes sure your home is well taken care of.
Not to mention that we offer a free inspection to make sure that your home is properly insulated for the colder months of the year. If you want to learn more about our services, contact us.