Needs for Crawl Space Insulation or Sub-Floor Insulation in Virginia Beach, Chesapeake, Newport News and surrounding cities:
1. The current sub-floor insulation or attic insulation insulation is damaged by a moisture issue:
Once sub-floor insulation is wet, it is no longer useful. It will lose its R-value. Replacing wet insulation is a must. If you ever have a moisture issue in your crawlspace, call Universal Insulation Doctor for a free insulation inspection to assure your insulation was not at risk.
2. The current insulation was contaminated by a pest infestation:
If you have had a pest infestation, the likelihood of your insulation being contaminated by urine and feces is very high. Remember a significant amount of the air you breathe in your home comes from your crawlspace. Imagine what you and your family is breathing in after that infestation. Universal Insulation Doctor recommends removing the contaminated insulation, then a disinfectant treatment and then installing new insulation.
Why Does R-Value Matter to Me?
The United States Department of Energy warns homeowners that just 1 in 5 homes constructed prior to 1980 are sufficiently insulated. While homes constructed today are required to meet R-Value standards set by the U.S. Department of Energy, this requirement was not included in building codes prior to the mid-1970s. This means that approximately 80% of homes built before this time need better sub-floor insulation! If you're uncertain if your home falls within this category, contact us and our energy experts can help you determine if you're in need of sub-floor insulation.
R-value is a measure of resistance to heat flow through a given thickness of material.
Wet Insulation Caused by Heavy Condensation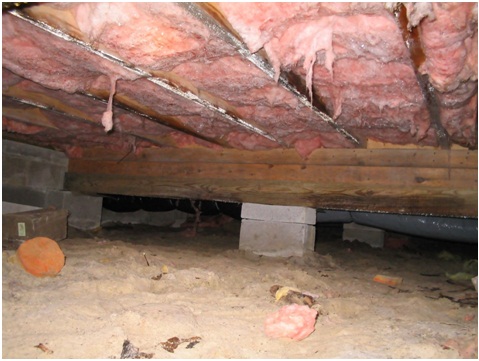 New Sub-Floor Insulation by Universal Insulation Doctor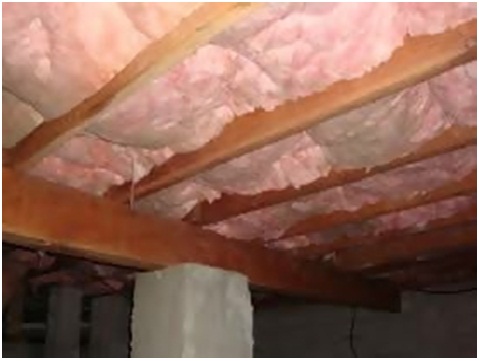 We offer a three-step home service process:
Inspection: We take the time to make sure you are getting the service expected from Universal Insulation Doctor. Our inspectors are trained to look for signs of rodent or wildlife nesting, droppings or urine. We can also provide (upon request) video or pictures before and after.
Service: With an A+ rating with the BBB we understand you expect the best service for the best price. our technicians attend regular training for insulation removal, insulation install as well as sanitize applications.
Follow Up: Follow-up process is the most important part of the service. We offer our 100% Satisfaction Guarantee. If you are not 100% satisfied with the service, we will come back as many times as necessary. No questions, no hassle.
Whether you live in Virginia Beach, Williamsburg or Suffolk your home will be more comfortable and energy efficient with the right insulation. Insulation helps lower the cost of heating and cooling your home. Here's how: Heat travels. In the winter, heat flows out; in the summer, heats flow in. A properly insulated home reduces that heat flow, so you don't use as much energy to heat your home in the winter and cool it in the summer.
Easy payment options. Service today, pay tomorrow.
90 Day Same as Cash
6 Month Interest Free
Up to 24 Monthly Payments with "0" Down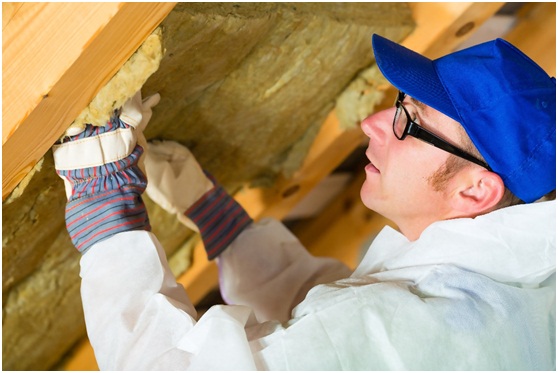 Sub-Floor Insulation Options and Materials:
Fiberglass Insulation
Fiberglass is probably the most common material. It's budget-friendly, and newer products don't irritate the skin and lungs. Fiberglass insulation is manufactured to slow airflow through the material.
Cellulose Insulation
Cellulose is made of recycled paper and it's treated for fire resistance. The material is packed tightly together to resist airflow.
Rock Wool Insulation
Rock wool (also called mineral or slag wool) is created by spinning or drawing fibers from molten materials to create the insulation.
Are you ready to get your crawl space insulation inspected?
Your Universal Insulation Doctor inspector can discuss the best insulation option for your home. Call today for a no-charge assessment. We will measure your existing insulation, take photos of any additional concerns under your home and share what we think the best options will be for your home. BBB