Are you grappling with energy inefficiency or struggling with inconsistent heating and cooling in your space? Across Virgnia Beach, Chesapeake, Suffolk, and the entire Hampton Roads we've been finding and helping homeowners to re-seal their air ducts.
A leaky duct system not only disrupts your comfort but also sends your energy bills soaring. However, new legislation for 2023 in the Inflation Reduction Act allows homeowners to claim a tax credit on insulation and air duct sealing.
By addressing these leaks, we aim to keep your home consistently cozy, help you cut down on unnecessary expenses, and take advantage of the newest tax credits. It's a win-win-win situation.
Universal Insulation Doctor Air Duct Sealing Service
Welcome to Universal Insulation Doctor, where we prioritize your home's health and energy efficiency efficiency through our comprehensive Air Duct Sealing service. Our mission is to enhance the performance of your HVAC system, reduce energy waste, and create a healthier indoor environment for you and your loved ones.
Why Air Duct Sealing Matters?
As time unfolds, the intricate network of air ducts within buildings undergoes a natural wear and tear. This evolution often involves the emergence of leaks, gaps, and holes which can increase your energy costs and allow in damaging pests or insects. While these may seem like minor nuisances, they play a pivotal role in compromising the overall efficiency of your heating, ventilation, and air conditioning (HVAC) system.


1. Energy Loss
Leaky air ducts silently allow conditioned air to escape, akin to throwing hard-earned dollars away, undermining the HVAC system's efforts. This not only impacts comfort but also strains the environment as the system compensates by working harder and longer, leading to both financial and ecological consequences.

2. Reduced System Performance
Your HVAC system's delicate dance of temperature control depends on an uninterrupted flow of air through the ducts. Leaks and gaps disrupt this choreography, compromising the system's performance and resulting in uneven heating or cooling. This not only impacts comfort but also strains HVAC components, risking a shortened lifespan.

3. Increased Utility Bills
Compromised air ducts not only cause discomfort but also drain your finances, as escaping conditioned air forces your HVAC system to work harder, leading to increased utility bills. Our Air Duct Sealing Service is designed to address these leaks, helping you save on costs while optimizing your HVAC system's efficiency.
Key Benefits From Air Duct Sealing for Your Home
1. Improved Energy Efficiency:
Sealing leaks in your air ducts prevents conditioned air from escaping and unconditioned air from entering. This results in a more efficient HVAC system, reducing the workload on your equipment and lowering energy consumption.
2. Cost Savings:
By optimizing your HVAC system's performance, you can expect to see a significant reduction in your energy bills. Our Air Duct Sealing Service offers a cost-effective solution to improve your home or business's energy efficiency.
3. Enhanced Comfort:
Seal gaps and leaks to ensure that the temperature-controlled air reaches every corner of your living or working space. This leads to a more consistent and comfortable indoor environment.
4. Extended HVAC System Lifespan:
With reduced strain on your heating and cooling equipment, you can extend the lifespan of your HVAC system. This helps you avoid costly repairs or premature replacements.
5. Indoor Air Quality:
Sealing ducts prevents dust, allergens, and contaminants from entering the system, leading to improved indoor air quality. Breathe easier and enjoy a healthier living or working environment.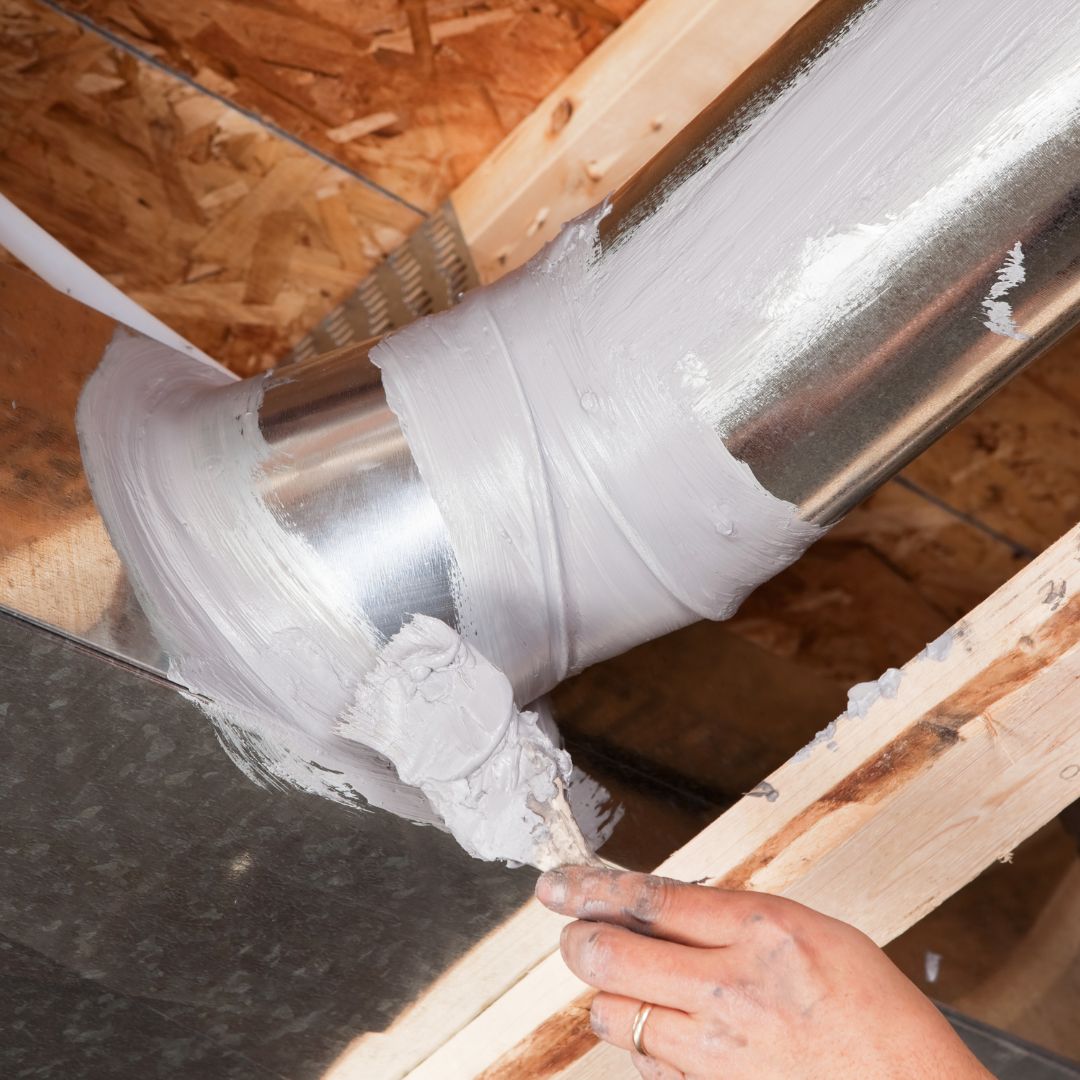 Who Should Get Their Air Ducts Sealed?
Homeowners and business owners in Hampton Roads who notice uneven heating or cooling in their home should at least get a survey done on their air ducts to check the efficiency of their system. Air duct sealing becomes especially pertinent for individuals facing challenges such as uneven heating or cooling, elevated energy bills, or those who suspect potential air leaks within their ductwork.
Older buildings and homes in historic districts or that are older like Ghent, Larchmont, Lockhaven, Colonial Place are going to see the highest demand of air duct sealing. It's a great alternative to replacing your entire system because it's typically cheaper, a faster repair, and can lower future energy bills. Look for hot rooms or cold areas in your home – that might be indicative of inefficient air distribution due to leaks or gaps in your duct system. Addressing these issues through regular air duct sealing not only enhances the overall efficiency of your HVAC system but also acts as a proactive measure to prevent further complications.
For businesses aiming to create a conducive working environment, optimal indoor comfort is paramount. Unaddressed air duct issues can lead to employee discomfort, reduced productivity, and increased utility costs. Businesses can foster a healthier and more energy-efficient workspace by investing in air duct sealilng. Whether in a residential or commercial setting, air duct sealing is a practical step towards ensuring a comfortable, cost-effective, and sustainable indoor environment.
What Makes Universal Insulation Doctor Your Ideal Choice
Universal Insulation Doctor is the ideal choice for air duct sealing because or our highly trained staff, our familiarity with local structures, and our excellent customer service. We invest heavily in our team and our equipment, ensuring that we can deliver a professional and efficient service to every customer. Look at some of our reviews on Google! Discover why Universal Insulation Doctor stands out in providing comprehensive and personalized solutions for your home or business.
Expert Air Duct Sealing:

Universal Insulation Doctor specializes in air duct sealing, bringing a wealth of expertise to ensure that your ductwork is efficiently sealed, minimizing energy loss and enhancing HVAC system performance.

Cutting-Edge Techniques:

We employ the latest industry-leading techniques and technologies for air duct sealing, ensuring a thorough and effective process that addresses leaks, gaps, and inefficiencies in your duct system.

Personalized Solutions:

Our approach is tailored to your specific needs. Whether you're experiencing uneven heating or cooling, high energy bills, or suspect air leaks, our team crafts personalized air duct sealing solutions to optimize your system.

Prompt and Reliable Service:

Count on Universal Insulation Doctor for timely and reliable air duct sealing service. We understand the importance of efficiency, and our team works diligently to address your needs promptly.

Customer Satisfaction Guarantee:

Our commitment to your satisfaction is unwavering. With Universal Insulation Doctor, you can expect not only expert air duct sealing but also a dedication to ensuring that you are pleased with the results.

Next Day Appointments:

At Universal Insulation Doctor, we understand the urgency of your needs. Our commitment to providing efficient service is exemplified by our next day service guarantee. Experience swift solutions without compromising on quality.

SmartPay Options:

We prioritize your convenience, offering flexible payment solutions through our SmartPay options. Tailored to meet your financial preferences, our payment plans ensure that improving your home or business's efficiency is both accessible and hassle-free.

BBB A+ Accredited:

Trust is paramount, and we are proud to be accredited by the Better Business Bureau (BBB). This accreditation reflects our commitment to ethical business practices, customer satisfaction, and our dedication to maintaining the highest standards in the industry. Choose Universal Insulation Doctor with confidence, knowing you are partnering with a trusted and reputable service provider.
Universal Insulation Doctor is Hampton Road's ideal choice for air duct sealing. Trust Universal Insulation Doctor for a comprehensive and tailored approach to enhance your living or working space.
Our Air Duct Sealing Process
Thorough Inspection:

Our experienced technicians conduct a comprehensive inspection of your air duct system to identify leaks, gaps, and areas of concern.

Sealing Solutions:

We use state-of-the-art materials and techniques to seal leaks and gaps in your air ducts, ensuring a durable and long-lasting solution.

Performance Testing:

After sealing, we conduct performance tests to verify the improvement in your HVAC system's efficiency. This ensures that you experience the full benefits of our service.

Customer Education:

We believe in empowering our customers with knowledge. Our technicians will provide you with insights into maintaining your newly sealed air ducts for optimal performance.
Air Duct Sealing In Your Area
We are proud to serve all our neighbors in the following communities: Virginia Beach, Chesapeake, Norfolk, Portsmouth, Newport News, and Hampton.
We are committed to offering quality, consistent duct service on a quick timeline across Hampton Roads, Virginia Beach, and all surrounding areas.
Secure Your Air Duct Sealing Spot!
Act now to secure your spot for expert air duct sealing with Universal Insulation Doctor! Don't miss the opportunity to enhance your HVAC system's efficiency and enjoy a more comfortable living or working environment.
Contact us today to schedule your air duct sealing service and take the first step toward energy savings and optimal indoor comfort.
Easy Contact Request
Ready to schedule a no-charge home insulation assessment? Simply fill out our Easy Contact Request or give a call to schedule. 757-962-0340
Request Now
Why should your insulation company be qualified in cleaning air ducts?
Often if your insulation has been contaminated by rodents or wildlife, there could be a similar problem in your air ducts. Each time your HVAC system turns on, unseen contaminants could be entering your home. This issue could be contributing to health issues like allergy's or asthma. This is where Universal Duct Cleaning steps in.
Offering video inspections, air duct cleaning and air duct sanitize applications. For more information please visit our Universal Duct Cleaning site.
Sometimes removing insulation due to a rodent infestation isn't enough. Many consumers have had their insulation removed only to find the issue is in their air ducts. Having your air ducts cleaned after a rodent infestation will reduce the chance of contaminants entering your home.
Easy payment options. Service today, pay tomorrow.
90 Day Same as Cash
6 Month Interest Free
Up to 24 Monthly Payments with "0" Down